Hallaton Environmental Linings has been awarded with IFAI's (Industrial Fabrics Association International) 2019 International Achievement Awards (IAA) in the Geosynthetic Miscellaneous Category for the Druid Hill Reservoir – Temporary Lined Stone Cofferdam project.
Best in Geosynthetic Projects
In the IAA category of Geosynthetics Projects, our Druid Hill Reservoir project was recognized as the
Top Winner
in this category and was awarded the
Award of Excellence and Best in Category
.
The Druid Hill project was chosen the Top Winner from a total of six entries vying for award recognition in the Geosynthetics Projects category. Hallaton was recognized within the sub-category of Geosynthetic Miscellaneous, which was part of the Geosynthetic Projects overall category.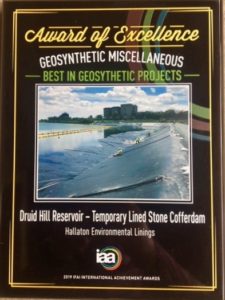 Scott Brinkerhoff, VP of Hallaton, accepted the award on behalf of Hallaton at the IFAI Expo on October 3, 2019, in Orlando, FL.
Award-Winning Project: Druid Hill Reservoir Temporary Lined Cofferdam
Hallaton performed the geosynthetics installation portion of a temporary stone cofferdam at the Druid Hill Reservoir. Hallaton's crew installed an XR-3 Potable Water Grade Geomembrane on one side of a stone cofferdam inside of a 55-acre active drinking water reservoir. The lined cofferdam was a critical component of an overall $164-million-dollar, 5-year project to upgrade the drinking water system which provides Baltimore area citizens with safe drinking water. Read more about the Druid Hill Reservoir Temporary Lined Cofferdam project.