Applications
Secondary Containment
Polyurea Spray Lining
Tank Piping/Testing
Leak Detection & Repair
Tank Removal & Remediation
Roadways
Recreational Facilities
Vapor Barriers
Concrete Liners
Specialty Materials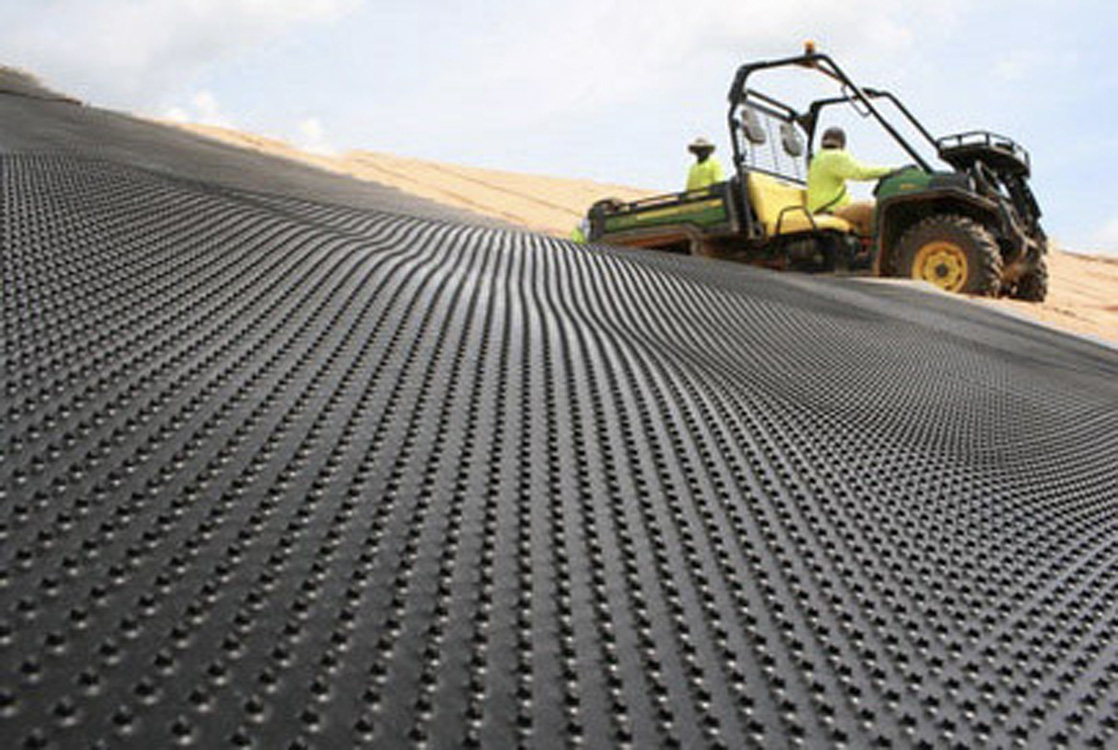 With growing demands for environmental protection and effective containment solutions, geosynthetics have become a staple in many other specialty applications.
Secondary Containment
While a primary container is a vessel that holds hazardous substance (e.g., petroleum, chemicals, pesticides, biological waste, leachate, etc.), a secondary containment system is often necessary to contain these hazardous liquids if they escape from the primary container, and to prevent them from escaping into the wider environment.
As outlined in its Spill Prevention Control and Countermeasure (SPCC) regulations, the EPA requires secondary containment in many industrial settings where primary containment is used.
Storage Tanks—Piping, Leak Detection/Repair, Remediation
While new geosynthetic lining technology often offers a low-cost, more effective solution to storage tanks, there are still applications such as with petroleum, medical waste, and specific industrial waste in which only a storage tank will do. Hallaton is experienced with storage tank installation, piping, leak detection, repair, remediation, and removal.
Concrete Protective Liner
These protective liners are made from high density polyethylene (HDPE) geomembrane with studs on one side that are designed to lock into applied surfaces. They protect concrete structures from corrosion, weathering, and mechanical damage. Concrete Protection Liner extends the lives of a wide variety of concrete structures, such as cast-in place sewer tunnels, sump pits, liquid storage tanks and more.
Polyurea / Spray Liner
Polyurea spray liner is a bio-safe, solvent-free protective spraying system that's extremely durable and can be used for a variety of containment applications. Providing a water-tight seal and protection against foundation degradation, abrasion, corrosion, chemical damage and more, Polyurea is often a better alternative to traditional geosynthetic liner on projects with intricate design and multiple pipe penetrations.
When Polyurea is applied directly to properly prepared concrete, metal, and geotextile substrates, using special equipment and trained applicators, the process yields excellent quality and high performance all around. Applications include secondary containment, aqueducts, livestock floors/stalls, food processing facilities, water and sewage treatment, heavy equipment protection and more.
Roadways
Geosynthetics have been successfully used to contribute significantly to the optimal performance of roadways. These functions include separation, filtration, reinforcement, stiffening, drainage, barrier, and protection. The four main applications for geosynthetics in roads are subgrade separation and stabilization, base reinforcement, overlay stress absorption, and overlay reinforcement. The products may also provide a moisture barrier.
Vapor Barriers
Geosynthetics are often used to eliminate exposure to harmful gases within building structures. By installing a geomembrane vapor barrier system below or above the foundation, you can effectively prevent unwanted gas from entering the structure.
Recreational Uses
There are many recreational uses for geosynthetics, such as playing fields, walking trails, parks, wetlands, etc.
Contact the geosynthetic liner experts at Hallaton to discuss your needs and let us help you find the best solutions. We've got you covered!
Project Profiles
Related Photos