The town of Bel Air in Harford County, Maryland, is a growing Baltimore suburb. As the population has increased, so has the need for more drinking water.
Hallaton is pleased to be part of the environmentally-sound, long-term solution to increase the potable water capacity for Bel Air residents. In order to provide a 100-day supply in case of a drought or emergency, Maryland American Water Company has constructed a new 13-acre, 90-million-gallon capacity water impoundment. The impoundment was constructed in 2018 and went into full service in 2019.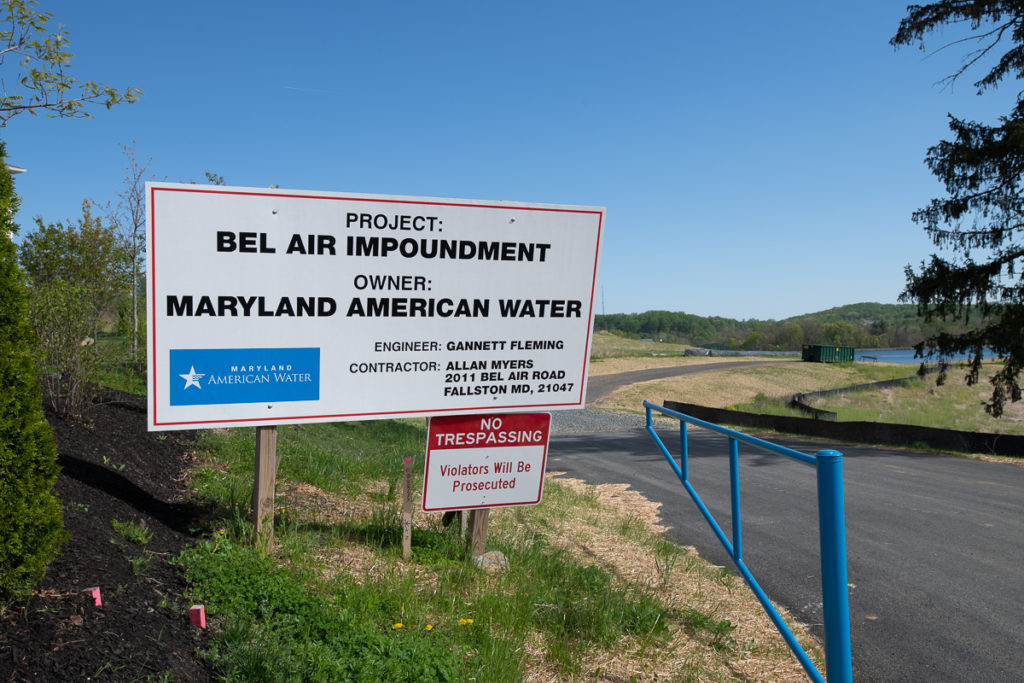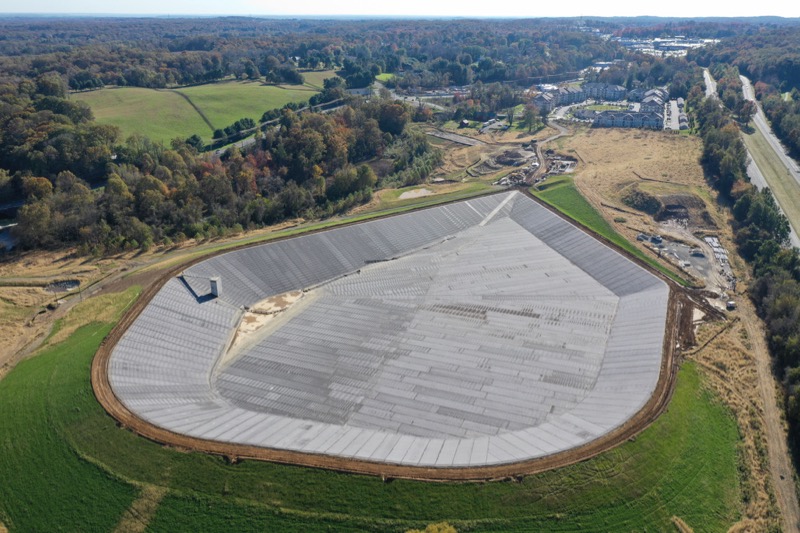 First on the East Coast to Install Bituminous Geomembrane (Coletanche ES4 HFA)
Allan Myers contracted us to provide and install the impoundment's liner system during the summer of 2018. The exciting part of this water containment project was installing a different type of geosynthetic geomembrane—Coletanche ES4 HFA, which is a bituminous geomembrane manufactured by Axter Coletanche. Currently there have only been a select number of projects in the United States where this material has been installed.
As the first installer on the East Coast to install this product, Hallaton is proud to be leading the environmental lining industry by staying on the cutting edge and installing all the various types of geosynthetic membranes that the industry has to offer.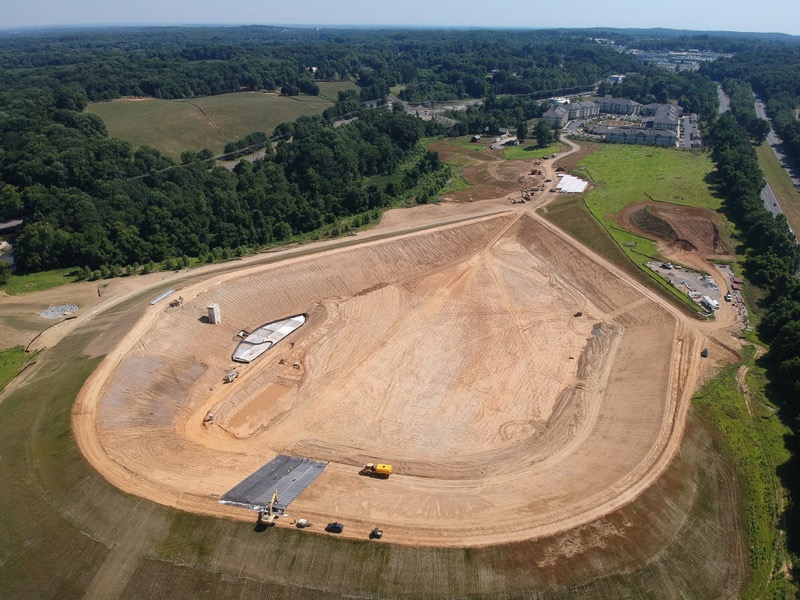 Five-in-One Layer System
The bituminous liner is notable for its durability. This heavy-duty material is highly resistant to tears and punctures because it is a 5-layer system that's combined into a 1-layer membrane.
Anti-root silicone film: helps resist punctures from roots, vegetation, and rocks along the subgrade
Glass fleece: keeps the dimensional stability of the material
Non-woven geotextile: helps resist punctures and tears
Elastomeric bitumen: helps waterproof the non-woven geotextile and provides containment
Sand: provides texturing that allows workers to walk on top of the material and creates a high friction angle that allows cover soil to stay on top of the material on slopes
The owner selected the bituminous geomembrane that was utilized in the construction of the Bel Air water impoundment. When installing this type of geomembrane system, installers do not have to install multiple layers, thereby reducing the overall installation time. However, the challenge is that the bituminous geomembrane is 220 mil thick, compared to the typical 40 or 60 mil polyethylene geomembrane materials that are typically installed. The bituminous geomembrane rolls utilized on this project weighed approximately 5,000 pounds each.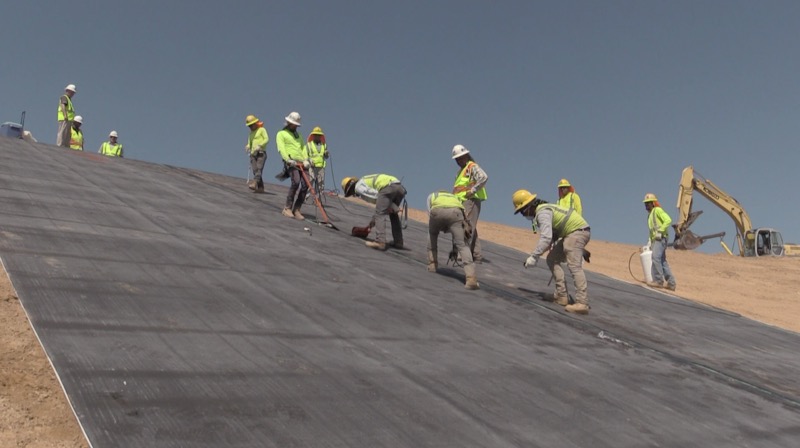 Open Flame Seaming and Ultrasound Testing
Installing the bituminous geomembrane has given Hallaton an opportunity to learn new methods of seaming and testing. The manufacturer even came to our office to provide training. "It's different from our everyday polyethylene liner," explained Justin Harward, Hallaton's Operations Manager. "But the guys have done a tremendous job learning and applying everything they have learned out here in the field."
Instead of using a wedge welder or extrusion gun, we use an open flame torch that's fueled by a propane bottle. The flame heats the bottom layer of the material and adheres it to the top layer, through a tar-like substance that squeezes out from the material.
This seaming process does take more manpower. "With wedge welding, you only have 1 person manning the wedge welder," said Justin. "But with this process, you need 3 to 4 guys for one seam—one guy prepping, one guy torching, one guy rolling, and another guy assisting with the 20-to-40-pound propane bottle."
To test the seams we use ultrasound testing, which is different from our typical methods. We use a probe to ultrasound the seam every 150 lineal meters, ensuring that it's a continuous, 8-inch-wide weld.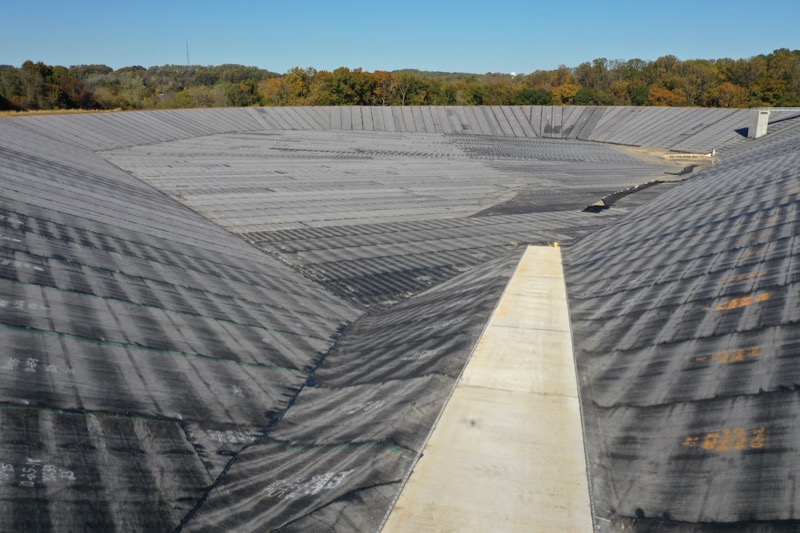 From France to Bel Air and Beyond
The bituminous geomembrane is manufactured in France. It crossed the Atlantic Ocean on cargo ships, arrived at the port of Baltimore, and then was delivered to the Bel Air jobsite on trucks.
Hallaton is proud to have been a part of providing the Bel Air community with more potable water by installing approximately 560,000 square feet of the France-imported material. After installing the product locally, we look forward to the next opportunity. The bituminous geomembrane has potential to be used in other environmental applications, such as solid waste and liquid waste containment, and roadways and ditches.
Although this geomembrane is fairly new to the United States, it has already been installed in places around the world, such as Europe, Central and South America, and Canada. The bituminous geomembrane is ideal for cold environments. It can be applied even in frigid weather, unlike other liner materials.
Equipped with this product knowledge and installation experience, we can now serve clients in colder climates. "It's been exciting to work with a cutting-edge material," said Justin. "It's been a great learning experience, and we hope to use this liner throughout the East Coast and beyond."
View Project Profile.