Savannah Reservoir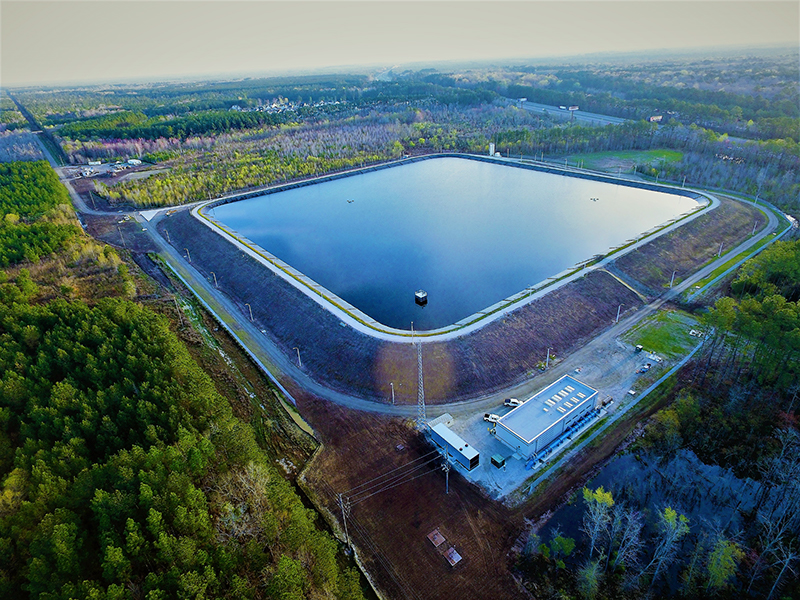 Constraints
Local and National Regulations
Stringent Safety Concerns
Difficult Weather Conditions
Background
This $40-million reservoir was part of the Savannah Harbor Expansion Project, which began in 2015. Savannah Harbor is the second busiest container port on the East Coast. The harbor was deepened from 42 to 47 feet, which allowed larger, heavier neo-Panamax vessels to call on the port with fewer tidal restrictions. It is predicted that the nation will save hundreds of millions of dollars per year in lower fuel and transportation costs.
The potential disadvantage of the deepened harbor, however, is that salt water could get into Savannah's water system during high spring tides. The Savannah River could also experience drought conditions during the summer. In these situations, the reservoir would provide a back-up supply of fresh water for two days.
Solution
Hallaton Environmental Linings of Sparks, MD, was contracted to provide and install the geosynthetics for the reservoir in Savannah. For this US Army Corps of Engineers project, Hallaton installed approximately 18 acres of 60 mil HDPE geomembrane and geocomposite. Additionally, approximately 10,000 LF of a 60 mil HDPE sand tube ballasting system was installed as part of the completed geosynthetic system. Hallaton fought through some less than ideal weather conditions to deliver this project on time and within budget.
Related Photos
Related Posts
https://hallaton.com/hallaton-installs-geosynthetics-for-savannah-reservoir/