Many families have been experiencing hardships this season, due to the COVID-19 pandemic and the effect it's had on jobs and the economy. So, Hallaton Environmental Linings jumped at the opportunity to become a 2020 Toys for Tots sponsor and help spread a little Christmas cheer to children who are in need.
America's Most Popular Children's Charity at Christmas
The Toys for Tots organization, which was established in 1947, is the U.S. Marine Corps' premiere community action program, and America's most popular children's Christmastime charity. It's a national program with a local touch, distributing an average of 18 million toys each year to 7 million children.
Community Hot Spot
The Hallaton office in Sparks, Maryland, is an ideal drop-off location in the community, since it is conveniently located on the popular NCR hike and bike trail. Many patrons pass by and use the trail each day. It provides some much-needed fresh air and exercise, especially with so many parents working from home and kids being home schooled over the last several months.
Hallaton also allows the trail's visitors to park in the company lot after work and on the weekends. "Several people have expressed their appreciation for being able to park in Hallaton's lot, since it provides such easy trail access," said Todd Harman, Hallaton's President. "I was hoping that everyone would see the Toys for Tots signs and the donation box in front of our building and make a donation towards a great cause." And they did!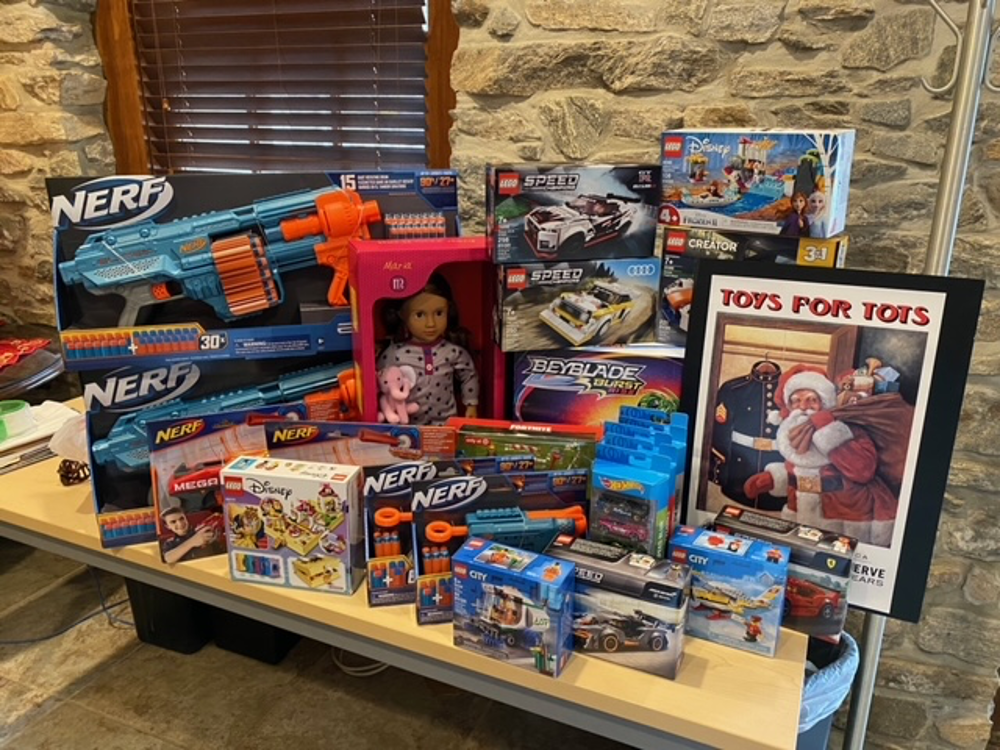 Santa's Elves in Sparks, Maryland
So far, with the help of the community, Hallaton employees have collected more than 172 toys in just a couple of weeks. Hallaton will be delivering the toys, along with a monetary donation, to the Toys for Tots main collection center on Friday, December 18, 2020. From there, the toys will be distributed to children in local communities just in time for Christmas.